From 32 inches to 70 inches, the TV size is gradually becoming more and more of a screen trend, and 55 inches have become the mainstream of the market, and consumers are also more interested in buying large-screen TVs. Since 2013, many TV manufacturers have focused on large screens for new product releases. 55-inch TVs have become a watershed measure of TV quality.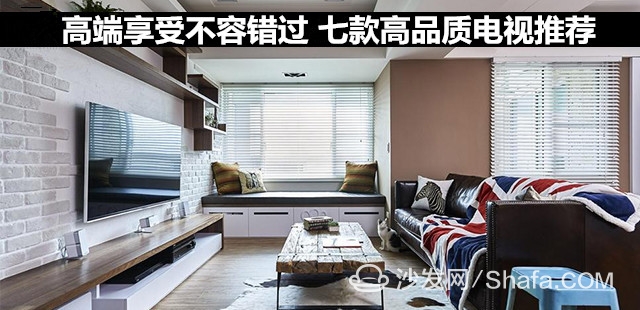 Most consumers have a problem when they buy TV. Do we have to pay more attention to product technology and display effect, or product design and appearance? Many pragmatic people think that TV is just a display device. People watch more of the inside picture than the appearance of the product itself. Therefore, they will give priority to products that are technologically advanced, and whether the appearance conforms to their own aesthetics will be a secondary position. .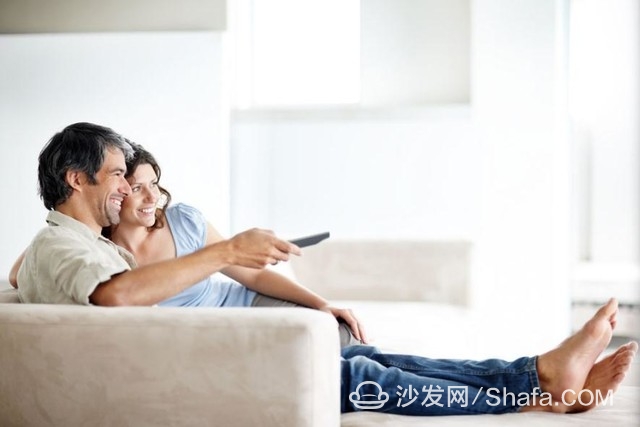 There are also some appearance associations or people who pay attention to the layout of the living room. Although they know that the picture quality of television is very important, they cannot accept a product that cannot be satisfied with their appearance. So are there products that are as good as product technology and designs? Although the flagship products of the major manufacturers in the market today have made great fuss about their technology and appearance, it is not very much that they really do. Below, the author will recommend several high-quality televisions combining technology and art. I hope to help everyone buy.
55 inch second generation quantum dot curved TV Samsung UA55KS9800
At the beginning of 2016, Samsung unveiled its latest flagship second-generation quantum-dot SUHD TV at the CES in the United States. It officially unveiled its mysterious veil to the world. As a product with both connotation and value, it attracted a lot of attention at CES. The repercussions. In March, Samsung China Forum's second-generation SUHD QD TV, the flagship KS9800, made its debut in China. Samsung defined it as "This is TV", and it is determined and confident that this product has established a new standard for television.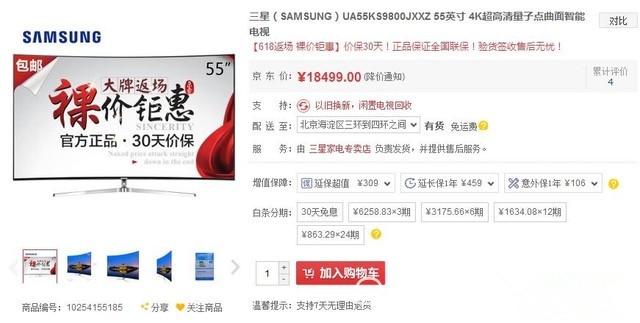 Click to enter the electricity supplier interface
Immersion is the focus of all display devices pursuit and breakthrough, this is the reason why VR products are so hot, but VR technology is far from perfect application, and can not be shared by many people. To this end, the Samsung 2016 flagship KS9800 TV is equipped with second-generation quantum dot display technology, curved borderless design, 1000nits HDR display technology, high-resolution 10bit LCD panel, moth-eye bionic, Supreme ultra-clear local control, Supreme MR 200 Dynamic compensation technology, deep black anti-reverse technology and so on, these technologies combine to bring the most powerful picture quality and immersive experience to users so far, more realistic than VR.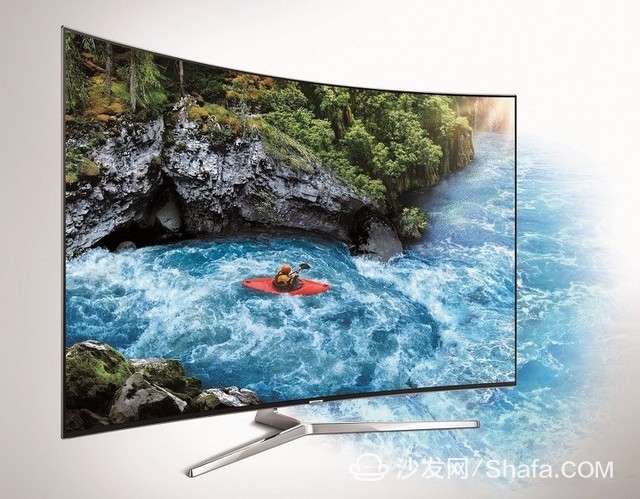 Feeling I was there - Samsung's second-generation SUHD QD TV unparalleled immersive experience
On the software side, the SUHD TV KS9800 is running a new version of the Samsung Tizen intelligent system. The smooth operation, user-friendliness of the UI, and the availability of features have all been greatly improved. With Samsung's upgraded Smart Hub, Smart View, multi-screen technology, etc., it is easy to implement cross-device, cross-platform connectivity and instantly share favorite content with family members. Workmanship is tightly stitched, materials are used, and appearance details are perfect.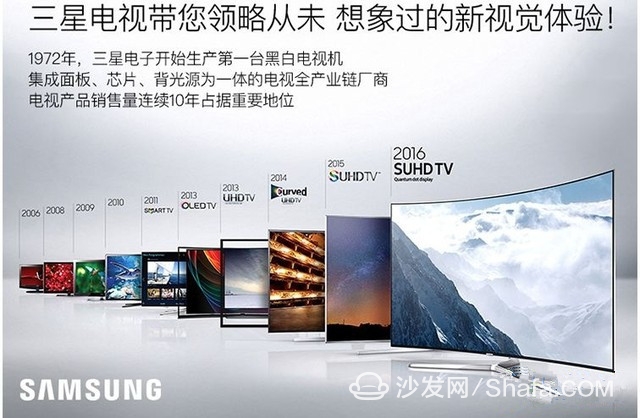 With excellent display chips and a novel technology foundation, Samsung has been among the best in the world TV manufacturers. Over the years, it has had a good reputation and high-quality workmanship, and has laid a very good reputation for its products. The KS9800 brought to you this time is a curved 4K ultra-high definition television based on Samsung's second-generation quantum dot technology. The flagship positioning is destined for this product's extraordinary. Samsung's achievements in surface screens are undoubted. The maturity of quantum dot technology, high-end technology, big brands, big manufacturers, and flagship products are what you are waiting for. Look into them in depth!
Samsung UA55KS9800

[Reference price] 18,499 yuan
[Dealer] Jingdong
Colorful 4K+ display system Hisense 55 inch curved TV
Hisense LED55K7100UC curved TV, has a pure and elegant appearance, beautiful screen arc, fine diamond cutting frame. Hardware is equipped with a high-performance processor, high-quality audio, and LCD screens with Color IQ technology. The system is also equipped with the latest VIDAA3 smart operating system. The high-performance processor with the latest operating system brings a unique and smooth experience to the use of the product itself. Interested friends may wish to find out. At present, this TV in Suning Tesco offer 7999 yuan, interested friends may wish to look at.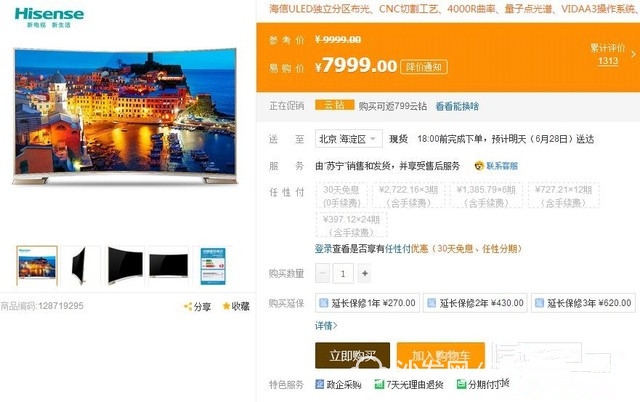 Click to enter the electricity supplier interface
Hisense LED55K7100UC redefinition ULED art panel is the most attractive place for this TV, using the latest 64-bit A53 architecture processor, with 4 core CPU + 6 core GPU + 4 core NEON co-processing top with 14 nuclear design, let Its outstanding connotation can be released like a cloud. At the same time, the price of 7599 has also broken the current high price of the television market with high, low-cost low distribution pattern.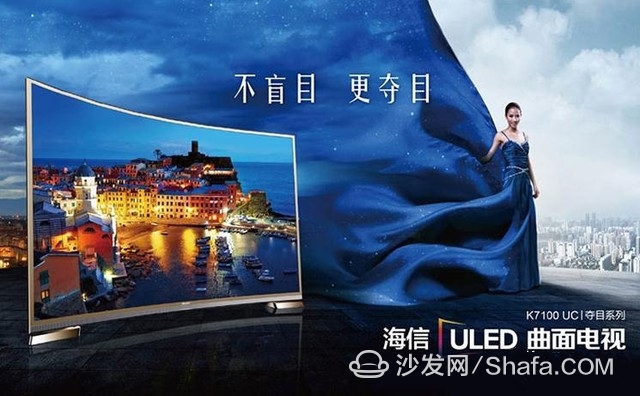 Hisense LED55K7100UC
The overall style of the airframe is purely simple, with black as the main tone, complemented by a champagne gold metal frame, and excellent workmanship to make the machine itself look more perfect, vaguely revealing noble and elegant temperament. The slightly backward angle of the fuselage is not obtrusive, to meet the 4000R curvature ultra-clear panel, so that it has a very natural depth of field and a very good presence, 55-inch screen can even bring a 60-inch visual experience.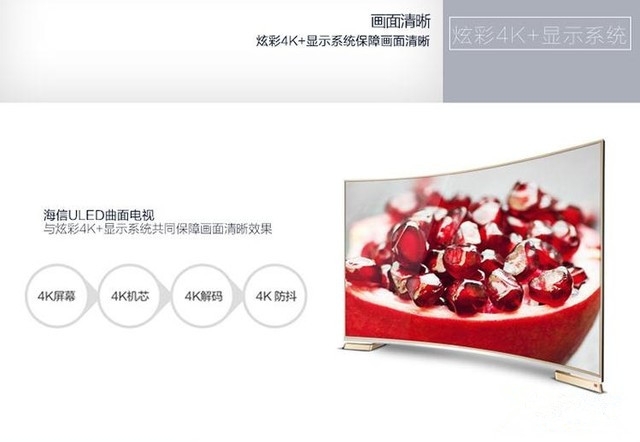 Colorful 4K+ display system
Edit Comment: LED55K7100UC metal frame using CNC diamond cutting technology, the border is angular but without losing the mellow, and matte process, so that feel great, the width of the panel frame is only 15mm. Metal frame convergence is meticulous, you can see its excellent workmanship at one go. If we say that high-quality workmanship and sleek cutting process have created an external look and feel for this TV, then its high-end hardware configuration and the latest operating system also bring a very good experience to the fluency of internal software use. .
Hisense LED55K7100UC

[Reference price] 7999 yuan [Dealer] Suning Tesco
Art TV Premium Enjoy Cool Open 55-inch LCD TV
Cool open T55 is a 55-inch smart TV, equipped with LG's latest ART Slim 4K screen, borderless design, integrated backplane, support Bluetooth 4.0 technology, support for apple mirroing technology, more importantly, cool open T55 this product Fundamentally solves the inherent solution of the traditional smart TV's one machine core, and adopts a modular core that can be freely replaced to fundamentally solve the problem of hardware elimination. In addition, the T55 is equipped with the HIFI Bluetooth speaker from the world's top loudspeaker manufacturer JBL. At present, this TV is sold at a price of 7,999 yuan in Suning's e-shop. Interested friends can look at it.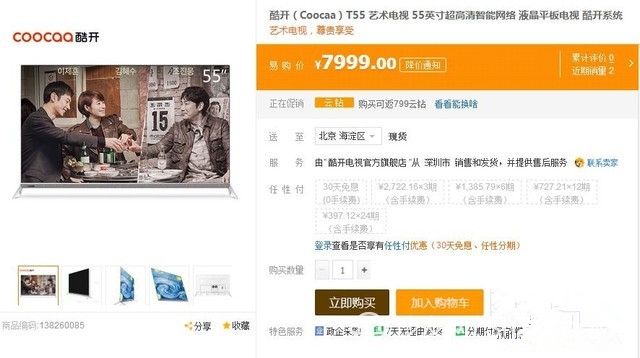 Click to enter the electricity supplier interface
The bottom edge of the Cool Open T55 is very distinctive, and it does not use a metal material that is unified with the body style, but instead chooses a linen material that does not seem to be associated with home appliances. Linen cloth, as a kind of oil painting cloth, is flexible, corrosion-resistant, and has a long preservation time. It is matched with the aluminum one-piece front panel and is more in line with the modern fashion home decoration aesthetics.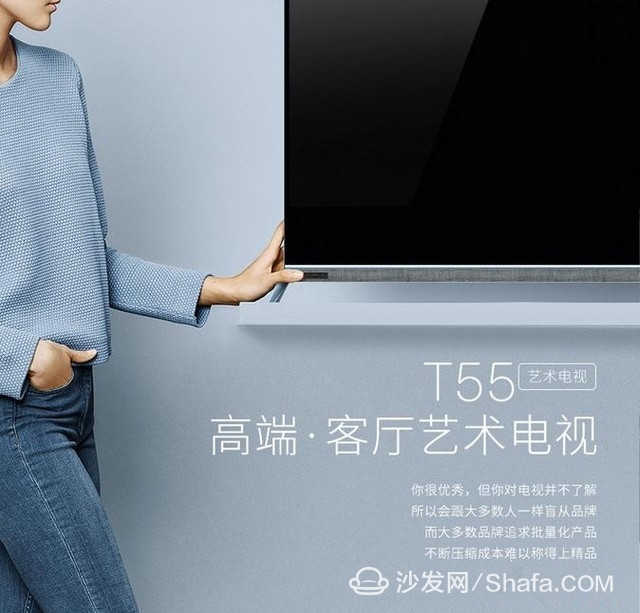 Cool open T55 Art TV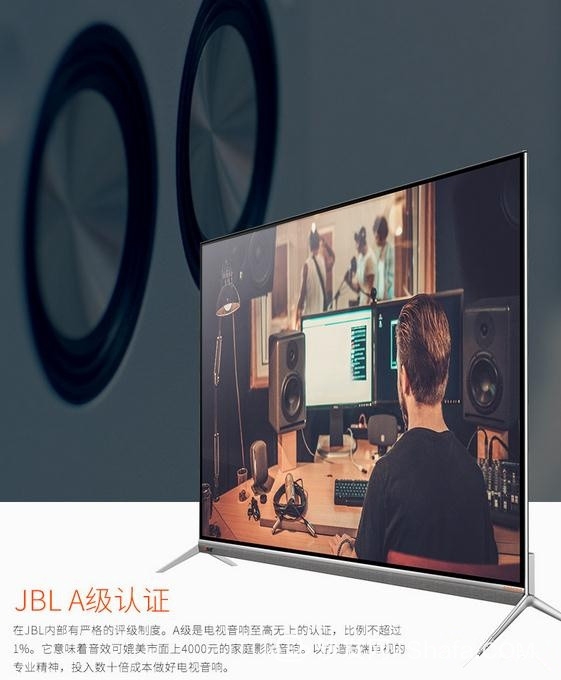 Equipped with JBL A stereo
Tencent video has a huge amount of copyrighted audiovisual resources. It is the only official cooperation platform for China's good voices and other popular talents, and it has been authorized by the NBA to broadcast. Tencent's video platform can also see hot American dramas like the American HBO. In addition, according to official sources, all users who purchased Coocaa T55 will receive a Tencent video membership card sent by Tencent Video. After becoming a member, they can view more paid content.
Cool open T55
[Reference price] 7999 yuan [Dealer] Suning Tesco
Ball Watch artifact TCL L55C1-CUD 55 inch curved TV
The 9.9mm ultra-thin curved surface television C1-CUD, which was born for the sport, integrates the whole ecological HDR technology and realizes HDR in all aspects of hardware, software, and content. It truly presents high dynamic content, allowing users to see clear images that are not discounted. The creative application of the 4000R golden curvature screen not only enhances the field of view of the screen, forms an immersive audiovisual experience, allows fans to enjoy the moment of passion of the event, but also conforms to the curved screen design constructed by the human eye, and also slows down the eyes when watching the game. The sense of fatigue will allow fans to enjoy a more comfortable sensory experience while watching the game. Therefore, C1 is praised by the majority of fans as the best viewing ball artifact in the atmosphere of immersive feeling.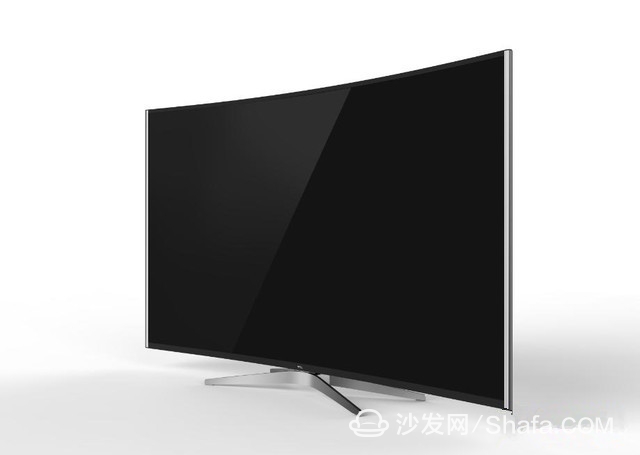 TCL C1-CUD
In the scenes of high-speed sports such as ball games and racing cars, the phenomenon of smearing and ghosting can be reduced to a level that is hardly noticeable to the human eye. When watching sports TV subtitles, there will be no jitter! At the same time, it can effectively eliminate the interference caused by signal interference in the process of signal decoding and transmission, and avoid flickering or pixel gaps on the screen. Noise reduction also makes the picture outline more clear. It completely changed the problems of ghosting, tailing, and unclearness that occurred when ordinary TVs watched events, allowing fans to enjoy the passionate and cheering in front of the TV screen.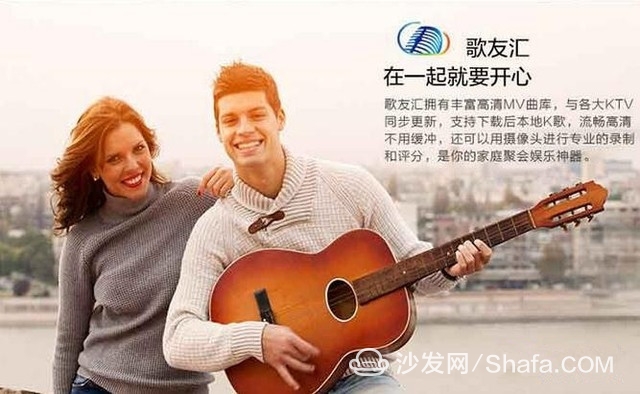 As a new generation of TCL TV + products, TCL C1-CUD not only carries the Internet video industry giant Tencent video coverage of massive resources, more exclusive synchronization of the theater module, allowing users to see the cinema during the same period of the film. More C Games, Friends of the Friends, WeChat and other applications, allowing users to enjoy a new home entertainment experience. On the system side, the TCL L55C1-CUD is equipped with a new TV+OS3.0 operating system and can be turned on for 5 seconds. Human interaction is also very human, chocolate remote control not only feel comfortable, but also has T key direct, metal material, voice control, somatosensory handle, wireless air mouse and other multiple features, small remote control also plays a variety of roles.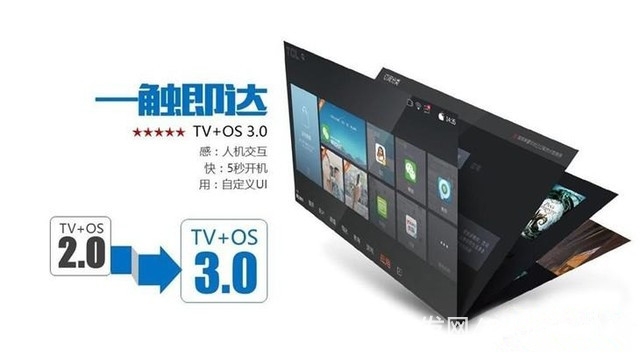 TV+OS 3.0
The ultra-thin curved TV TCL C1-CUD breaks the traditional mode of watching the game and brings a more extreme and more realistic experience. It is a watch artifact for the European Cup. "The TCL 618's quality promotion, TCL C1-CUD straight down, can be described as the majority of fans preparing for the European Cup provides the best opportunity. And this 55-inch TCL C1-CUD ultra-thin surface TV is currently quoted as 8999 yuan, carrying the promotion of preferential policies, interested friends quickly start it.
[Reference price] 8999 yuan [Dealer] Zhongta Dazhong [Business address] No. 11 West Third Ring Road, Haidian District, Beijing [Contact] Wang Guowen 18601351358
Thin and excellent Skyworth 55-inch 4-color 4K TV
Skyworth 55G9200 has a 7.5mm ultra-thin body, integrated alloy shell, meticulous side, edge show, ART5 narrow edge design, vision is more mad, bring more real on-the-spot experience. Adopt LG 4 color 4K Air screen, add white pixels, the screen brightness, contrast greatly enhanced, the backlight uses a better lamp beads material, color saturation is greatly enhanced, the screen performance is more beautiful, 3-layer integrated module, in the promotion The brightness of the screen closely matches the backlight module with the performance glass. At present, Skyworth's ultra-thin TV Jingdong Mall is priced at RMB 8,999, which is a reduction of 1000 from RMB 8,999, equivalent to RMB 7,999. Interested friends may wish to look.
Click to enter the electricity supplier interface
Skyworth 55G9200 uses JBL Bluetooth stereo, GEEK BASS B41 passive heavy bass, treble bright, medium thick, bass, only 4K sound quality experience. The SOC 64-bit chip used by the Skyworth 55G9200 is a 64-bit TV chip. After the number of bits is doubled, the number of cores is no longer important. Whether it is to start 4K video and games or to handle multiple complex tasks at the same time, it can respond quickly.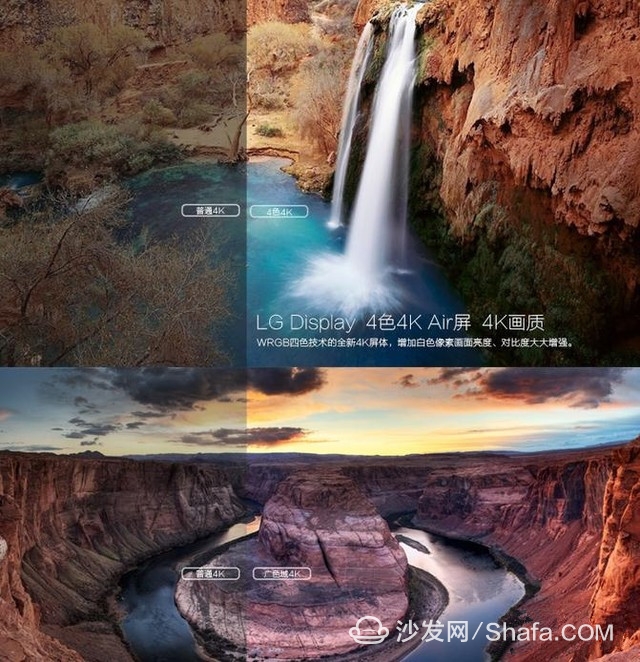 4K4 color Air screen
Using JBL Bluetooth stereo
Skyworth 55G9200 built-in cool open application circle, new cache cleaning, memory optimization, application removal and other functions, to achieve a more reasonable application management, rich resources, responsive. Skyworth 55G9200 has a slim body, a smooth system, a wealth of content resources, strong 64-bit chips, allowing you to watch TV as quickly as possible.
Skyworth 55G9200

[Reference price] 7999 yuan [Dealer] Jingdong
Perceived the beauty of science and technology, music as super 4 X55 Curved
LeTV 4 X55 Curved uses aerospace-grade aluminum metal, seamlessly bends ultra-narrow metal frame, with a small arcuate corner design, and anodizing process, the ultimate ultra-thin, using Samsung surface true 4K panel, side-entry ELED backlight, and With 4000R golden curvature, 178° wide viewing angle, 4000:1 high contrast, 4K HDR10 format is supported, which effectively enhances the contrast of the picture, allowing users to see very clear details of the shadows and highlight details at the same time. At present, this TV is priced at 4,999 yuan in Jingdong Mall, and the price is very high. Interested friends may wish to pay attention.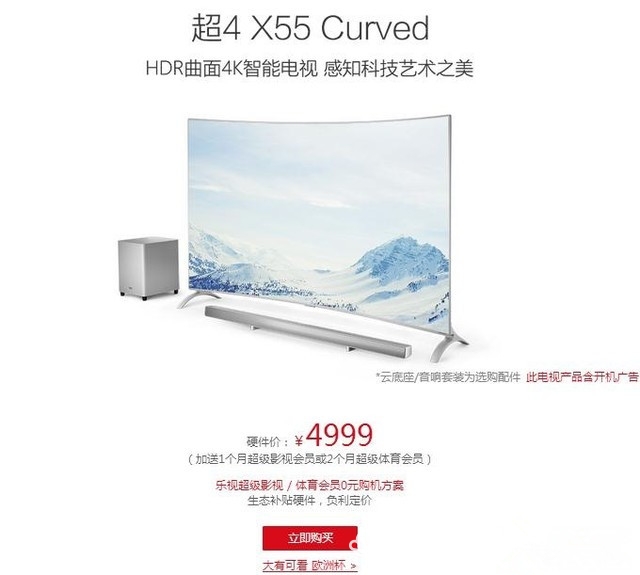 Click to enter the electricity supplier interface
LeTV 4 X55 Curved adopts 55" Samsung true 4K panel, and takes the lead in adopting the latest and strongest smart flagship chip Mstar6A938, 4-core 1.7GHz 64-bit processor and Mali T820 high-performance flagship GPU, 3GB large running memory in the industry +32GB eMMC5.1 high-speed flash memory.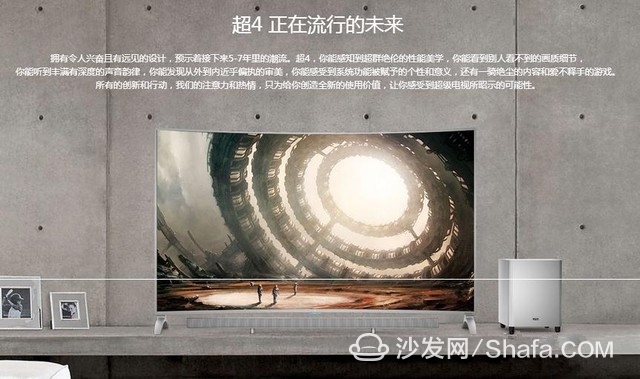 LeTV 4 X55 Curved
LeTV 4 X55 Curved adopts the latest and strongest smart TV flagship chip Mstar6A938, 3GB large running memory +32GBeMMC5.1 high-speed flash memory, adopting the latest 2-core Cortex-A72 CPU and 2-core A53CPU collocation architecture. On the GPU side, the Mstar6A938 is equipped with the highest-end MaliT820, and the Harman Kardon expert team designed the audit system and professionally certified audio systems. The latest EUI5.8TV-Springer operating system creates a surprise experience for users.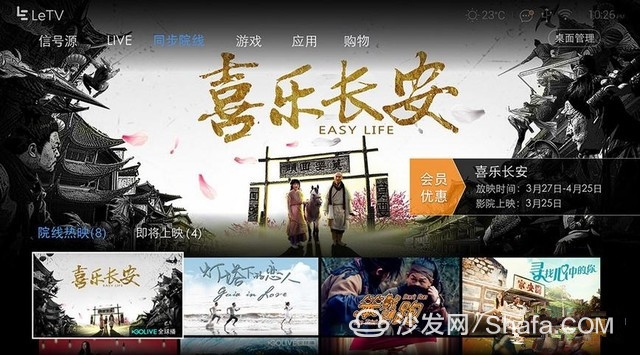 LeTV TV massive video resources
Edit Comment: LeTV 4 X55 Curved integrates the industry's top-quality image engine - "4K engine M-Genuine S1-Pro", through around the noise, advanced color processing, jitter, support HDR and other innovative technologies, can Effectively eliminate video noise, loss of detail and color during signal transmission, and enhance TV dynamic image processing capabilities.
LeTV 4 X55 Curved

[Reference price] 4999 yuan [Dealer] Music as the mall
Floating Pictures "Thin" Explores Future Sony 55-Inch LCD TVs
Since the launch of the first 4K TV in 2012, Sony has a deluxe 4K TV lineup every year. The improvement of the quality technology has also improved from the original 4K sharp image processing engine to the full optimization of the sharpness, color, and contrast. X1 4K image processing chip. Not only that, Sony has gradually improved the 4K product ecosystem from the lens to the living room, and it has also become the first domestic brand to provide high-quality 4K film sources. One of the KD55-X9000C offers 10,199 yuan in Jingdong Mall. Interested friends may wish to pay attention.
Click to enter the electricity supplier interface
According to Daisuke Shiono, senior designer of the Sony Tokyo Creative Center, the "Floating Style" suspension design adopted by the X9000C series has brought Sony's "integrated design" philosophy to the extreme. The extremely thin body, complemented by a borderless screen, allows it to fit perfectly into any space, making it difficult to perceive the existence of the TV itself. Not only that, another highlight of the suspension design lies in its unique wall-hanging method, which makes full use of the wall space and makes the TV perfectly fits the wall surface, giving people a "floating" visual experience, coupled with an impressive 4K. Image quality, so as to present the user with a different sensory feast.
Thin body about 4.9 mm
Image quality is the foundation of TV products, and it is also the core advantage of Sony TV. Since Sony TV entered the 4K era in 2012, the upgrade of each generation of 4K products has been accompanied by the development and application of Sony's new image quality technology. Makes the picture sharper and sharper 4K sharp image processing engine PRO; let the colorful and attractive Terri charm color display technology; make light and dark scenes contrast more outstanding light control technology. These intensive research technologies that contributed to the top quality of Sony's 4K TV were driven by a brand new 4K image processing chip, the X1, in 2015, once again pushing image quality to a new level.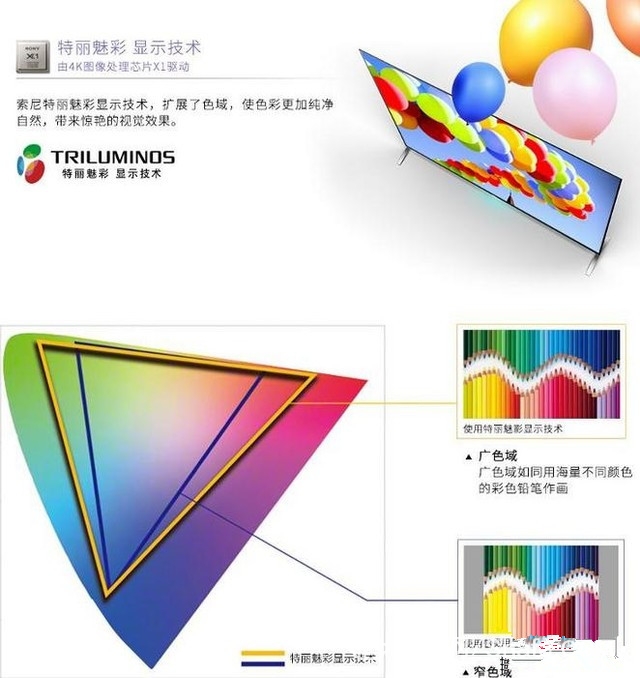 Using Terricolor display technology
It is worth mentioning that the 4K sharp image processing engine PRO driven by the 4K image processing chip X1 is more powerful. New database, richer image database, digital noise reduction, noise crusher, self-similar precision imaging, flat area detection and other technologies, can optimize the image of various signal input sources close to 4K image quality, truly experience each 4K audio and video at every moment.
Sony KD-55X9000C

[Reference price] 10,199 yuan [Dealer] Jingdong
There are good hardware and display effects, of course, with a rich content resources, the combination of software and hardware can play the greatest value of a TV. In terms of content, it is recommended to install a sofa butler - the sofa butler is a third-party app store designed specifically for smart TVs, Android box users, carefully providing television, box users with high-quality television exclusive version of the application, including with live Or on-demand video and audio and video software, various types of recreational competitive video game software and daily office entertainment management system management tools. click to download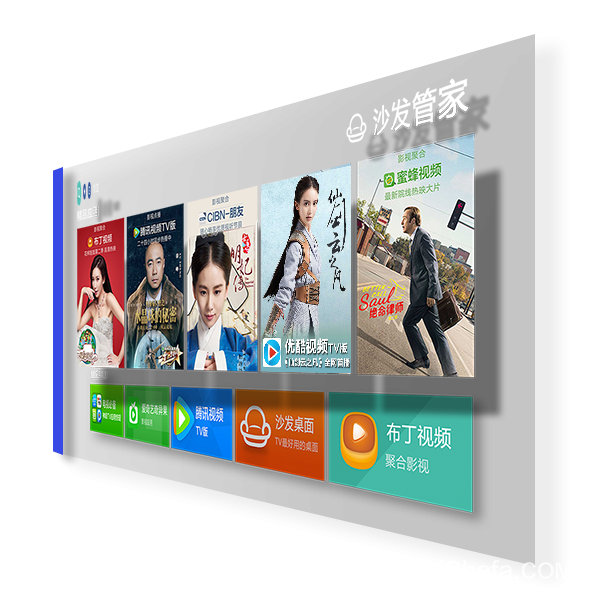 COMPATIBILITY ONLY for iPhone 6, (4.7 inch screen), please do not confuse it with other versions.

COMPATIBILITY ONLY for iPhone 6 plus (5.5 inch screen), please do not confuse it with other versions.
Warranty: 1 year warranty. For any quality problems, we offer full refund or replacement and you don't need return defective one back to us, 100% working, test 3 times before shipment.
Function: Screen replacement to repair cracked/shattered screen. Also solve display/touch issues, dead pixels and wrong color problem.
IPhone 6 Plus Retina LCD Touch,IPhone 6 Plus LCD Touch Screen,IPhone 6 Plus LCD Digitizer
Shenzhen Aokal Technology Co., Ltd. , https://www.aokal.com