Digital TV has been promoted globally for many years. However, with the continuous promotion of network technology, what can be done through the medium of TV is very different from the past. With the integration of TV, network and computer, the backbone of TV system and service providers are constantly transforming.
In terms of infrastructure, the TV system is moving towards digitization step by step, which is to shift the TV transmission architecture from an analog environment to a digital environment. In this regard, the satellite broadcasting system has been fully digitized, and the cable system has also completed most of the changes. Work; under the conditions of digitalization, TV service providers are gradually expanding the content of services. At present, many new paid services, such as music CD, MTV or game downloads, and even web browsing and e-mail functions can be seen .
Strong demand for the IP STB market In this digital architecture, there is a key device, which is the set-top box (STB) placed at the end user. From the earliest analog STB (channel selector) to today's digital set-top box (DSTB), STB has a history of more than 20 years. The analog STB still exists today. It has the functions of receiving, modulating and decoding (de-scrambling) the TV signal. Such devices have changed little in the past two decades.
The emergence of the Internet is a major turning point in the STB market. The first thing that appears is to allow viewers to access the Internet dial-up STB (Dial-up set-top box, also known as TV Internet machine) through the TV in the living room. Today's popular product is IP STB. The streaming content processed by IP STB is generally transmitted to the home by satellite or cable network, but the difference from cable STB or satellite STB is that IP STB has the same functions as the previous two, and also uses existing Low-cost IP network architecture, therefore, IP STB can support a wider range of applications and interactive services.
IP STB provides new service opportunities for network service providers. For example, end users can watch videos or listen to music content through the TV interface, browse the Internet, play online games, and send and receive email These are new revenue sources for service providers, and this interface is IP STB.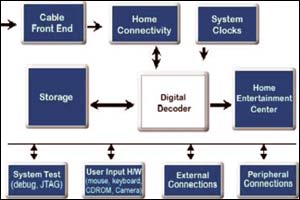 In terms of digital STB, it can be divided into three levels: entry-level digital STB (Entry-level digital set-top boxes), mid-level digital STB (Mid-range digital set-top boxes) and high-level digital STB. IP STB belongs to the high-end product market in the digital STB. The growth trend of this market is quite optimistic. The Strategy AnalyTIcs agency predicts that by 2008, the global market will have 40 million high-end STB devices, and the largest market will be in United States.
More and more telecommunications and IPTV vendors provide video through IP and DSL, and their users will need these IP-STB and residential network gateways to decode signals. The number of IP-STBs is not as large as conventional digital STBs, but this is clearly an area of ​​high growth in STBs. In-Stat believes that global production of IP STB, including home and business, will continue to grow. It is estimated that the average annual growth rate in the next three years will be nearly 200%.
IP STB interactive services that are constantly being renovated Interactive digital content services that can be provided through TV systems include TV on demand (VoD), Digital Video Recorder (DVR), Electronic Program Guide (EPG), and TV commercial (television) commerce, t-commerce), messaging services, music, games, IP phones, network gateways and web browsing, etc., and new services are constantly being introduced.
Due to the difficulty of providing these functions, the IP STB can also be divided into two categories: simple and advanced. The simple type is an entry-level device that emphasizes cost efficiency, mainly providing basic broadcast and TV services, VoD, EPG, and web browsing; the advanced type is positioned as a full-featured media center. Into the hard disk (HDD), so that STB has sufficient storage capacity to record programs, which can provide DVD playback and video recording, PVR and personal multimedia storage functions, not only that, such devices may also have a home network connection port, making STB further Residential Gateway (ResidenTIal Gateway). (Please refer to Figure 1)
IP STB system architecture IP STB can transmit interactive and personalized video content to today's TV through IP connection. In order to provide safe and high-quality content, an IP STB must build a flexible platform Support data transmission and network protocols that comply with industry standards.
In terms of IP STB system architecture, it contains three independent subsystems: TV unit, conditional access (condiTIonal access, CA) unit and PC unit. The TV subsystem is composed of a tuner and a video decoder, which are used to process digital stream information; the CA subsystem allows the service provider to control the ability to know when and what programs the viewer is watching; PC subsystem Mostly a modular design, which means that STB designers can increase or decrease the components in this system according to their needs. Since the goal of IP STB is to provide Internet service functions, its PC system has to provide TCP / IP stack protocol, and has a better storage solution.
In the design of the IP STB processor architecture, the dual-core architecture of DSP and another general purpose processor (General Purpose Processor, GPP) is usually used. Among them, DSP is mainly used for decoding processing on video and audio. Currently, it is mostly programmable. DSP to meet the flexibility requirements of customization; GPP is used to handle the control and computing requirements from various interfaces, including hard disk bus interface, wired interface such as Ethernet and GPIO, and wireless interface, please refer to figure 2.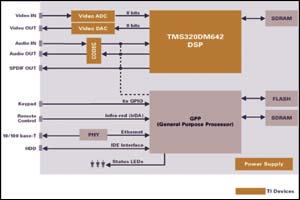 Figure 2 IP STB processor core architecture (Source: TI website)
Take Broadcom's BCM7318 system single chip as an example, it has MPEG-2 audio and video decoding function, 32-bit MIPS microprocessor (266MHz), 10 / 100Mbps Ethernet network controller and USB 2.0 host controller. Under this architecture, the decoding chip can handle streaming content from specific external interfaces such as Ethernet, external hard drives, and cable, telephone line, satellite or digital terrestrial network interface modules.
IP STB system planning For STB, how to provide high-quality audio and video content with the existing bandwidth is a key point, and this solution has surfaced, that is, from the existing MPEG-2 format to the new high Advanced image compression technology, which is H.264 or Microsoft's VC-1 format.
In today's MPEG-2 format, it is impossible for service providers to provide multi-channel video programs. In today's environment, the bandwidth that each viewer can use is usually less than 2Mbps, which is not enough to smoothly transmit MPEG-2 high-capacity multimedia information. However, if the ISO encoding standard H.264 compression technology (also known as MPEG-4 part10 / AVC) is used, it can transmit excellent digital streaming images at a bandwidth of 1Mbps, which is for standard TV (SDTV) The broadcast of the program is not a problem. In this way, telecommunications service providers can use the existing network architecture to provide users with digital broadcasting services.
A recent research report published by market research company ABI Research pointed out that about 30% of IP-STB currently supports H.264 and VC-1. As manufacturers have successively launched H.264 high-end video decoder hardware chip solutions, which will improve the cost-effectiveness of IP STB in the construction, ABI pointed out that this high-level video decoder will become IP-STB The standard equipment is expected to be included in almost all set-top boxes by 2008. In this case, it will also drive system operators' willingness to adopt IP STB.
IP STB with high-end video decoder provides high-quality H.264 / MPEG-4 AVC image decoding capability, it can provide high definition (HD) and standard definition (SD) Video service; in addition, in the decoding of sound, this decoder must also support the latest multiple audio standards, including MPEG-4 high efficiency AAC (AAC +), MPEG-4 AAC (ACC-LC), Dolby Digital Plus (Enhanced AC3), Dolby Digital (AC3), MPEG-1 Layer I, II, III (MP3), and PCM (pulse code modulation), etc., can meet today's diverse audio processing environment.
In addition to video services, high-end IP STB also requires support for more functions, such as the use of a 2D graphics engine that includes a hardware drawing accelerator, which can support high-end drawing functions and can also enhance the interaction between software-based electronic program guides and IPTV Services, in turn, have product differences. In addition, adding the IP STB of the hard disk, combined with the design on the software, can provide new services including personal viewing (viewing) and scheduling (scheduling), video and data push, on-demand video and other new services.
Conclusion The demands of service providers and market users for functions are constantly pushing forward the development of IP STB. From the perspective of service providers, they hope to introduce new services that can indeed generate revenue at a minimum investment cost and in a more flexible and convenient system development environment. Among these services, multimedia and entertainment-oriented new applications are most valued, and in order to ensure that copyrighted content can be protected from illegal distribution, the development of IP STB cannot be ignored in digital rights management (DRM) Issues.
In addition, how to provide easily upgradeable IP STB equipment has become a common demand of developers. In the future, the development of IP STB must meet the needs of customization, and at the same time follow reliable and mature industry specifications to speed up the design time and reduce development costs. Some international organizations have come forward to coordinate and formulate common specifications, which is of great help to the wide application of STB. At present, there are two representative standards promotion organizations, one is ECCA (European Cable Communications Association) in Europe and CableLabs in the United States, which has launched a number of STB reference design specifications.
IP STB will integrate more functions, such as modems, hard drives, MP3 and DVD players, and even home network functions. To play high-definition video content, it needs to be 4 to 6 times higher than standard video Bandwidth, you have to use higher performance decoding technology, such as H.264 or VC-1 to replace today's MPEG-2.
However, in addition to the end user 's IP STB, a complete system-side transmission environment and related equipment technologies are also required, such as VOD background integration technology, EPG server / intermediary software support, and DVR engine technology, to provide end-to-end (End-to-end) IP application services (please refer to Figure 3). However, IP STB's technological changes in new functions and new services are still a major driving force for the continued progress of the industry.
Figure 3 STB positioning in the overall network environment (Source: ITU-T / ECCA)
The circuit group provides the overall service equipment for a certain load source group, such as trunk line, switching device, control system, etc. The basic research content of the traffic theory is to study the relationship among the traffic volume, call loss and the capacity of the harness. Therefore, the harness is an important basic concept in the traffic theory.
Wiring Harness,Cable Harness,Custom Wiring Harness,Electrical Wiring Harness
Suzhou WeBest Electronics Technology Co.Ltd , https://www.webestet.com