1 Overview
The so-called fingerprint identification, as the name suggests, is to use the unique fingerprint information on the human finger to identify. As one of many biometric technologies, fingerprint identification has the following advantages: (1) Legal recognition, non-repudiation. (2) The characteristics of life and life. (3) Relatively low cost and small volume. (4) The longest development and the most mature technology. (5) Ten fingers, easy to use.
Fingerprint identification is the best way to balance security and convenience. Driven by Apple's mobile phone, the concept of fingerprint identification and related applications will enter more people's lives. For example, the fingerprint lock saves the trouble of having a key, and the car fingerprint remote control also allows the user to not have to worry about the remote control and the car being stolen. The future is expected to provide further checks on network security and payment systems.
2. Fingerprint identification device
A common fingerprint identification device can be composed of two elements: a processing chip and a fingerprint sensor. The early development of fingerprint identification is limited by the slow processing speed and high price of processing chips. With the rise of cost-effective and power-saving ARM processors, fingerprint identification can really enter the consumer market. The main purpose of the fingerprint sensor is to collect a complete fingerprint image. Commonly, there are two types of chip sensor (Chip Sensor) and optical type (OpTIcal). The size of the chip is small but the price is high and the image capturing area is small. Low, large image area, but large size, each has advantages and disadvantages.
(1) In order to grasp the timing of product priority introduction, Holtek actively invested in fingerprint identification technology, combined with the investment strategy partner Jin Hao Technology, and then matched the Cortex-M3 MCU HT32F2755 for fingerprint identification, and completed ultra-thin optical fingerprint identification. The system caters to the current trend of miniaturization and low price.
Cortex-M3 MCU HT32F2755 Block Diagram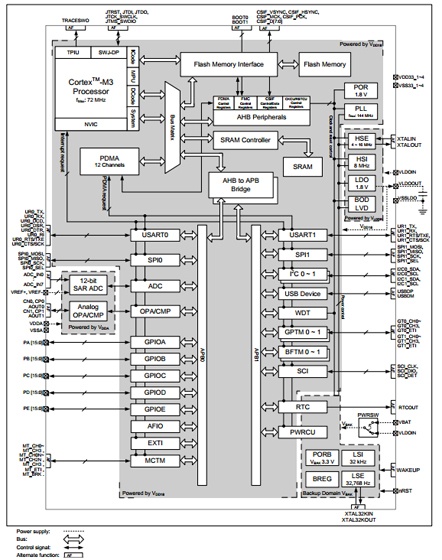 Detailed information: Cortex-M3 MCU HT32F2755
(2) Holtek's optical fingerprinting machine is based on the patented "TrueSecureTM" 3D fingerprint identification technology. Through special materials and optical systems, it can obtain sufficient effective area in a very short optical path and compress the thickness of the whole optical module to 6.5 mm (mm), and the advantages of optical and chip-based low price, large image area and small size. The ongoing second-generation solution thickness further compresses the thickness to only 4.9 mm and has been favored by some of the specialized tablets, financial transactions and remote controls. The third-generation solution, which will be released in the fourth quarter of 2014, is even 3.0 mm thick, helping to attack the mobile device market, which is extremely focused on thin and light.
Holtek optical fingerprint modules can be divided into three categories.
The GT series (GT-5110E1/5120E2) is a parallel interface (Parallel Interface) fingerprint sensor. The original image data is sent to the external hardware through the 24-pin interface, which provides the algorithm manufacturer to further develop its own solution.
GT series internal function simplified diagram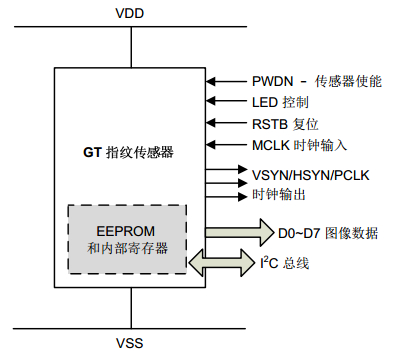 Details: GT-5110E1 fingerprint sensor
GTU series (GTU-5110B3/B4/B6) is a USB interface fingerprint sensor. Fingerprint image data can be transmitted to PC or mobile phone through USB interface. Holtek will also provide related drivers for major operating systems, such as Windows and Linux. .
GTU series internal function simplified diagram

Details: GTU-5110B3 USB fingerprint module
The GTM series (GTM-5110C2R/C3/C31/C5/C51) is an embedded fingerprint identification module that mainly includes a fingerprint sensor and a Holtek Cortex-M3 MCU with embedded fingerprint identification algorithm, and can be simply UART or USB interface. It performs related instruction operations, such as file creation, comparison and deletion, to provide a fast and convenient method for fingerprint recognition. The GTM series can store 20, 200 and 2000 fingerprints respectively depending on its application.
GTM series internal function simplified diagram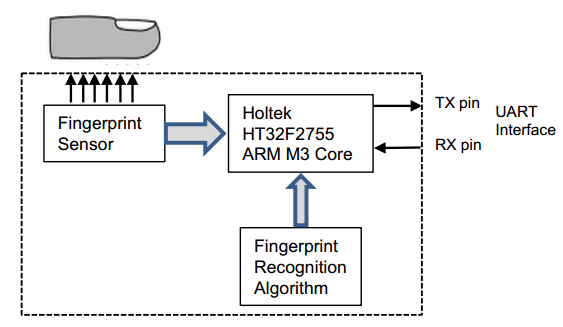 Details: GTM-5110C2R embedded fingerprint module
3. Holtek optical fingerprint module also has the following obvious advantages:
☆ The world's thinnest optical fingerprint sensor, high resolution low distortion fingerprint image
☆ Face sensor, one finger press, 360 degree, identification in either direction
☆ Image quality is stable and consistent
☆ Special treatment, anti-dry finger and prevent fake fingers
☆ Cost-effective, optical anti-static, durable and close to linear capacitive
☆ Complete development kit, including reliability report, reference source code, reference mechanism, circuit diagram and so on.
4. Optical fingerprint module application
Holtek's various optical fingerprint modules are no longer limited to high security requirements, and are ideal for system products in different applications, such as tablet computers, smart phones, network identity authentication, notebook computers, rugged notebooks, Industrial mainframe, computer cash register, mouse, keyboard, external hard drive, finger disc, electronic door lock, car lock, access control attendance system, remote control protection, safe, safe deposit box, locker, gun cabinet / box and other related products .
Printer Adapter means the charger of printer; the most printers used in the market are HP, EPSON, CANON and BROTHER brands, yidashun produces AC Adapter for all these brands of printers. The output voltage of these printer ac adapters are normally 12V, 16V, 22V, 24V, 30V, 32V and so on, the common dc plugs are 3 hole (Flat) and 3 pin (Round).
The popular hp printer adapters are double output 32V 1.1A/ 16V 1.6A, 16V 625mA / 32V 940mA, 12V 250mA /32V 1094mA, and single output 30V 333mA, 32V 2000mA, 32V 2500mA, 22V 455mA and 32V 625mA, the dc plug of all these models are 3 hole (Flat). The popular EPSON printer charger is 24V 2A output with 3 pin (round) dc plug.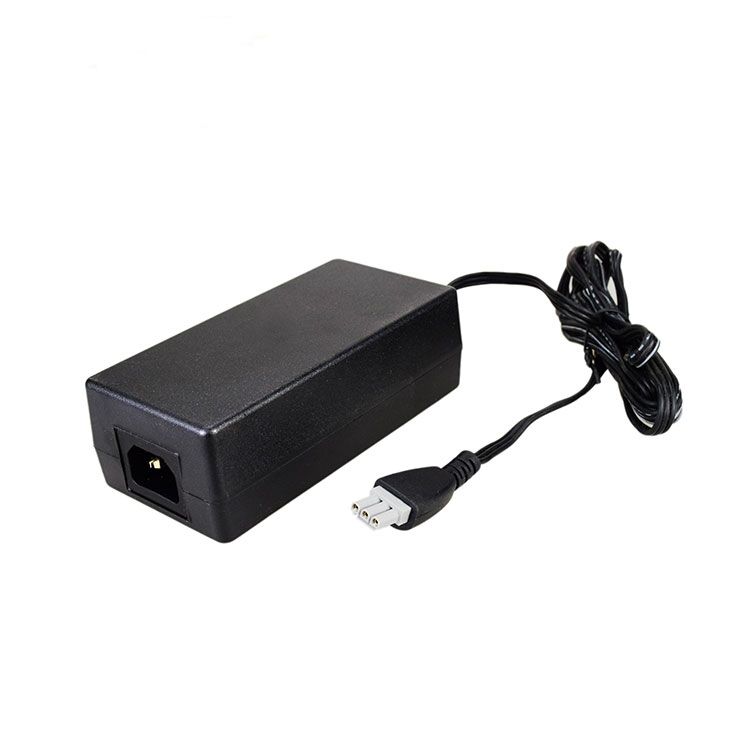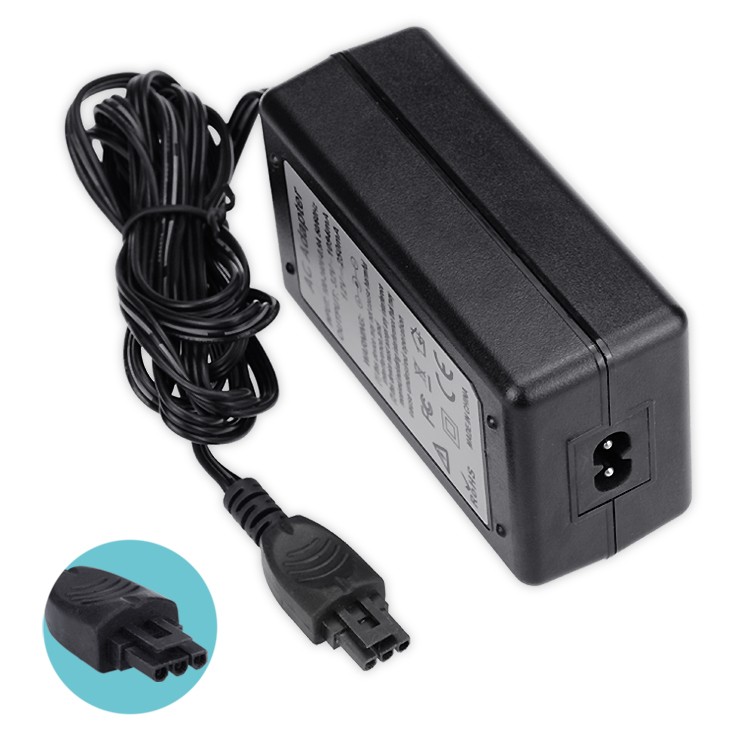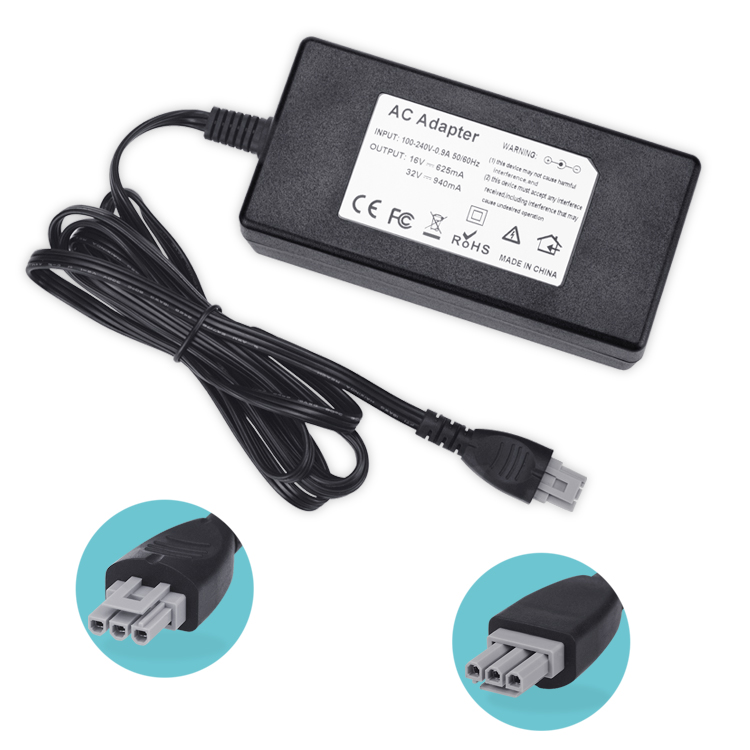 Printer Adapter,Bluetooth Printer Adapter,Wireless Printer Adapter,Wifi Printer Adapter
Shenzhen Yidashun Technology Co., Ltd. , https://www.ydsadapter.com