As individuals and industries use connected devices and networks in innovative ways, the number of devices that constitute the "Internet of Things" continues to grow rapidly. Machine-to-machine (M2M) communication has unlimited possibilities and is a prominent technical field for the emerging smart energy. As household meters, personal devices, and appliances begin to connect to each other, a larger and more comprehensive environment will be formed, which will help people make more informed energy consumption decisions. Connecting the networked devices in the home and the local Internet to the smart grid can enable two-way communication between the owner and the power company. This scenario is increasingly becoming a reality.
According to the forecast of the market research company IHS, by the end of 2016, the number of global smart meter installations will double, which will promote the penetration of telecommunications to about 35%. IHS said that as of the end of 2011, of the 1.43 billion meters installed worldwide, those with "smart" communication capabilities accounted for less than 18%. And these meters include old-fashioned one-way advanced meter reading system (AMR) and commercial and industrial meters with general packet radio service (GPRS) functions, and residential smart meters that can provide two-way communication.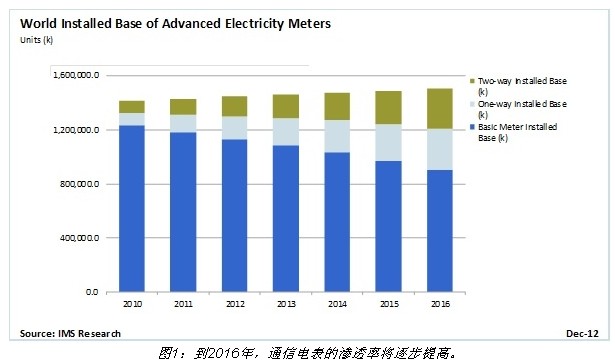 According to IHS, from 2012 to 2014, global smart meter shipments will remain stable and rely on developing economies such as China, Brazil, and India. With the commissioning of European smart meter projects, global smart meter shipments will show strong growth in 2015. IHS said that it is expected that various fixed network technology meters will be installed around the world, from the relatively simple RS485 wired meter to the next-generation intelligent two-way PLC-OFDM meter. Among them, China is currently regarded as "the only important market for advanced electricity meters", and the shipment of smart electricity meters reached about 40 million in 2011.
Markides, chief analyst of IMS Research, commented: "In the next five years, most developed countries and developing industrialized countries will have a booming smart meter market. Whether it is to save labor costs, cooperate with other smart grid plans, or To reduce non-technical losses, power companies around the world are accelerating the adoption of smart meters. "
This article will give a comprehensive introduction to Smart Energy Profile 2.0 (SEP), which is a new standard emerging in the smart energy market and developed by the ZigBee Alliance. If you have some basic understanding of SEP 2.0, software developers can better choose embedded software suitable for smart energy application development.
A new frontier of the Internet of Things
The Internet of Things is a very popular concept, depicting an exciting future picture: the refrigerator can check which foods are stored by itself, and send you a food purchase list by email when you are about to leave work; your house will adjust the room temperature to The best level, ready to greet you; preheat the food in the oven to prepare for dinner. The rapid growth of devices with built-in powerful processors, sensors and wireless connectivity brings more functions and higher intelligence to the device, leading us to the world of intelligent networking.
One application of these technologies is to improve energy consumption, also known as "smart energy". The concept of smart energy is to control the use of energy within the home, and to control the use of energy from outside the home using networked devices, networks, and smart grids. The goal is to optimize energy production, distribution, and use. The two-way communication between the home network and the power grid creates conditions for improving the reliability and stability of the application.
Smart grids and smart homes (smart appliances, gateways, etc.) and smart meters (electric meters, gas meters, water meters) are the key elements in a smart energy ecosystem. Smart appliances are usually devices that consumers touch every day. Allowing these devices to communicate with each other, and consumers can control them, will bring great convenience. There are some products (smart thermostats, smart switches, smart refrigerators, etc.) that currently have a certain degree of smart and wireless connectivity. Some more advanced appliances have a built-in Web server that can interact with other devices in a connected home. Smart meters are gateways to these homes (and offices), collect and measure resource usage, and then share some or all of the information with the smart grid. The smart grid then takes necessary measures based on this information, such as load adjustment, peak shaving, and even demand-side management.
In addition to performing its own standard functions, smart energy equipment must also be able to communicate with other smart energy equipment in the local network and be able to send and receive related information (billing, usage, reminders, etc.). The exchange of data can not only improve overall efficiency and fault tolerance, but also optimize energy consumption. Smart meters collect usage data and send it to energy providers, and enable consumers to monitor and manage their own energy consumption. In other words, usage data flows from consumers to energy providers, while pricing data flows from energy providers to consumers. This two-way flow of information allows consumers to independently manage energy consumption. This two-way real-time communication enables energy providers to improve planning and energy sales.
Standardize smart energy design
As multiple manufacturers are designing smart energy systems, it is becoming increasingly apparent that all devices in a network should be able to interoperate. The ZigBee Alliance is developing a standard called "Smart Energy Profile 2.0 (SEP 2.0)" to help regulate the requirements of many links in the smart energy ecosystem, including device communication, connectivity, and information sharing.
SEP 2.0 guides how to communicate with each other. It defines various device attributes that can be controlled. These attributes (also called "resources") are divided into logical groups to run together and perform various functions of SEP 2.0 (called "instruction set"). For example, meter reading systems or billing systems are dedicated instruction sets. Devices such as smart meters execute one or more instruction sets to provide value-added services such as usage statistics and trends. Energy providers or consumers can use these cost statistics and trends to strengthen the management of services or usage, respectively.
The instruction set and its resources in the device can be accessed via HTTP URL. These devices use technologies such as mDNS and DNS-SD to dynamically find related services in the network, and then register themselves to further access other resources to perform SEP 2.0 functions. In order to create a truly interoperable networked smart energy device ecosystem, network technologies based on TCP / UDP and IP must be used. It is very important that the device supports security features, because the perimeter network may bring security risks, and more importantly, the device also provides access to the energy network. Because many smart devices provide continuous, reliable, and real-time data, they must be "always online" and "keep connected," which requires all smart energy devices to themselves save energy. Finally, they must also support wired and wireless networking.


Electric Air Mattress,Electric Air Bed,Electric Air Bed Pump,Electric Blow Up Mattress
SHENZHEN SMARTNEWO TECHNOLOGY CO,. LTD , https://www.newopump.com