Speaking of manufacturing, China is a well-deserved first power. Economic globalization has made the sign of MadeinChina appear in almost every corner of the world. However, with the rise in labor costs in China, the United States and some other developed countries are pulling back the global manufacturing industry. The development of China's manufacturing industry is facing a severe test, and transformation and upgrading are imminent. Eft: Robots Will Bring Even More Glory to Benefits to Zhi Zhi Each person Efftel Intelligent Equipment Co., Ltd. Chairman and General Manager Xu Lijin is no doubt that at present, robots have become an important symbol to measure a nation's technological innovation and high-end manufacturing level. The major economies in the world have increased the development of the robotics industry into a national strategy and used it as an important means to maintain and regain the advantages of the manufacturing industry. It can be predicted that the industrial robot revolution is expected to become an important growth point in the third industrial revolution and will affect the global manufacturing pattern. As the world's largest robot market, we must have our own robot industry and robot brand.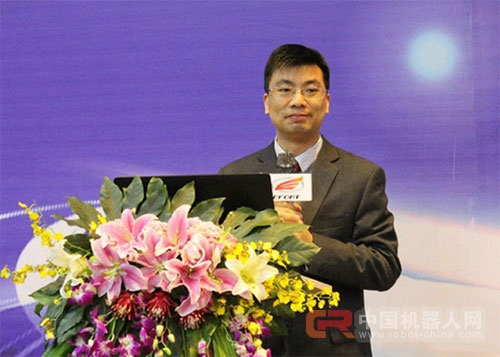 Eft was established in 2007. At that time, it was only a subsidiary of Chery Automobile. The Chinese robotics industry has only just begun. The entire market is almost monopolized by foreign brands. It is in such a difficult situation that Evert spotlights industrial trends. With five years of research and development and application of robotic benches, Evert has accumulated a great deal of product application experience. At the same time, the demanding applications of the automotive industry have promoted Eft's early robots. With the industrialization of products, Evert began to face markets other than Chery at the end of 2012, and the quality of its products quickly gained industry recognition and occupied a place in the domestic robot industry market. As a robotic enterprise of the "National Robot Industry Cluster Agglomeration Pilot Area" and "Anhui Province Robotics Industry Cluster Development Base", Eftel Company was promoted by the national, provincial and municipal innovative industrial policies. After many years of industrial accumulation, it was repeatedly used by industry professional media. Rated as "Bestselling Domestic Robot Brand". Today, EFT is entering a period of rapid development and has become a representative of the new force of smart equipment in China. Of course, Evert is also deeply aware that in today's rapid development of the times, only continuous innovation can stand in the forest of the enterprise, otherwise it will be eliminated by the times. Evert has continuously innovated cooperation mechanisms to create high-level innovation R&D teams and keep up with the pace of development of the times. Currently, Eft has established several R&D centers at home and abroad, establishing a partnership mechanism based on equity, and Eft will Through the integration of global resources and strategic cooperation, we have opened up the entire industry chain of the upstream and downstream of robots and created a robotic ecosystem. In 2016, it is an important year for both Evert and the Chinese robotics industry. Evert took over the Italian EVOLUT high-end polishing and polishing robot company this year, helping Eft to quickly enter the grinding market segment, and quickly establish an advantage in the domestic market. Eft won two hard battles in the "golden nine silver ten" and set a single month With the highest shipment volume, Evert also held the National Industrial Robotics Technology Application Skills Competition and selected outstanding robot application talents from across the country. The development of China's robotics industry has also seen a tremendous leap. The first batch of Chinese robot product certifications issued in July marked the formal establishment of a robotic inspection and certification system in China. Eft was fortunate to be the first domestic manufacturer to pass a full range of robotic B/S&E model certifications. Industrial robot companies; The Ministry of Industry and Information Technology officially released the "13th Five-Year Development Plan for Smart Manufacturing", which set clear goals and routes for the development of smart manufacturing in China. All indications indicate that the Chinese robotic industry is developing at a rapid pace with good momentum. It is believed that the industrial development in 2017 will be even more brilliant! Nowadays we are in an era of great transformation in the transformation and upgrading of manufacturing industries. Eft is fortunate to be a participant in this wave and sincerely hopes that it can contribute to the transformation of China's manufacturing industry. Evert has always been responsible for creating intelligent equipment and liberating human productivity. It is committed to becoming a world-class supplier of intelligent equipment that will make the charm of intelligent manufacturing benefit everyone's life!
KNL5-100 Residual Current Circuit Breaker
KNL5-100 Moulded Case Circuit Breaker is MCCB , How to select good Molded Case Circuit Breaker suppliers? Korlen electric is your first choice. All moulded Case Circuit Breakers pass the CE.CB.SEMKO.SIRIM etc. Certificates.
Moulded Case Circuit Breaker /MCCB can be used to distribute electric power and protect power equipment against overload and short-current, and can change the circuit and start motor infrequently. The application of Moulded Case Circuit Breaker /MCCB is industrial.
Korlen electric also provide Miniature Circuit Breaker /MCB. Residual Current Circuit Breaker /RCCB. RCBO. Led light and so on .
KNL5-100 Molded Case Circuit Breaker,KNL5-100 Small Size Molded Case Circuit Breaker,KNL5-100 Electrical Molded Case Circuit Breaker,KNL5-100 Automatic Molded Case Circuit Breaker
Wenzhou Korlen Electric Appliances Co., Ltd. , https://www.zjthermalrelay.com