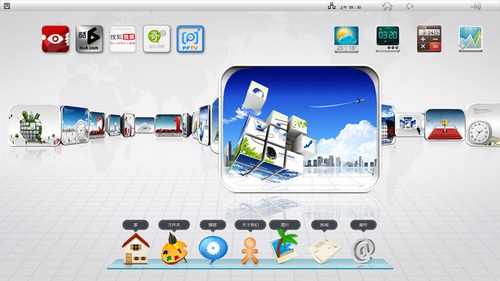 Smart struck, Chinese and foreign TV brands collectively launched smart TVs, setting off an upsurge in smart TVs and letting us look forward to the future of smart TVs. So what kind of changes can smart TV bring to our lives in the future? What can we do in the smart TV application store?
At present, the smart application of mobile phones is perfectly copied to the television field, making television, an old product with a history of more than one hundred years, rejuvenate. TV has introduced an intelligent operation platform to realize functions such as content expansion, multi-screen interaction, and home entertainment interaction. At the same time, TV has an ultra-high-definition display that is incomparable with computer-based mobile phones. Therefore, the introduction of smart TVs has seen strong development momentum. From this trend, it can be seen that in the future, smart TVs will inevitably gradually replace existing ordinary TVs, becoming the protagonist of our home entertainment and the core of smart life. According to Lu Jiebo, a well-known household electrical appliance expert and deputy secretary-general of the China Electronic Chamber of Commerce, for smart TVs, consumers want to make real use and real good use. Consumer experience of smart TV application functions is crucial. Has a large number of applications, and must be specifically developed for television, domestic and foreign color TV manufacturing companies in the future development of smart TV, we must strengthen the development of TV-specific applications.
At present, Changhong, TCL, Samsung, LG, Skyworth, Konka, Hisense and other far-sighted color TV companies have realized the importance of applications for smart TVs, and began to focus on developing personalized applications for smart TVs. Among them, Changhong and TCL cooperated to establish Huaneng.com, launched Huanwang.com, and has gourmet food, e-ticketing, online games, community services, e-commerce, etc., and has everything to eat, drink and drink; Samsung's application software based on HDTV platform (Samsung App Store ), Already have nearly 1,000 smart TV exclusive APPs in the global scope, which can meet the basic needs of users in sports, entertainment, information, games, design and other aspects; LG also released a new series of LW6500 smart TVs this year. TV App Mall website, all kinds of mini-games, Weibo, happy network, Baidu map, a sweep; Konka launched online payment system and application services, water charges remote control direct payment; Hisense devaluation 360 TV guards, open smart applications new The journey; In the future, if smart TV wants to get the real favor of consumers, it will develop more personalized APP applications for smart TVs. Enhancing the richness of content is the key.
In the smart age, smart TVs must be made to be the core of an intelligent life. No matter how good the hardware is, it is useless without the corresponding APP. For smart TVs to be developed for a long time, they must have a large number of suitable and personalized APPs so that TVs can have more functions while meeting the absolute needs of users. This is also the core driving force for the future development of smart TVs. The richness of the application will also directly affect the success or failure of flat-panel TV companies.
In view of the current development trend of smart TVs at the time, this forum will take stock of the market performance points of mainstream flat-panel TVs of various brands that were launched in 2012, and unveiled "China's Top Ten Flat TV Products 2012-2013" and "Ten Favorite Consumers". "Smart TV Applications" to provide consumer orientation. These awards are more able to mobilize consumer interest in advance and fully reflect consumer demand in the smart TV market.
Who will be "intellectual" in TV smart applications in 2012, and who will be "intelligent" in the future for each brand of flat-panel TVs? How will the 2013 consumer TV color trend go? Let's wait and see!
APM Dc Source System is designed to meet customer`s high power/voltage/current command. User can quickly and easily operate the DC Power Supply with its rotary knobs and buttons. Besides, free monitoring software for you to remote control the Adjustable Dc Power Supply.This series is applicable to multiple sectors such as electric, lighting and aviation sectors and it could be applied to enterprise's production test as well.
Some features as below:
With accurate voltage and current measurement capability.
Coded Knob, multifunctional keyboard.
Standard RS232/RS485/USB/LAN communication interfaces, GPIB is optional.
Remote sensing line voltage drop compensation.
Equips with LIST waveform editing function.
Use the Standard Commands for Programmable Instrumentation(SCPI) communication protocol.
Have obtained CE certification.
600V Dc Source System,Dc Telecom System,Dc Source,600V Dc Power Source
APM Technologies (Dongguan) Co., Ltd , https://www.apmpowersupply.com